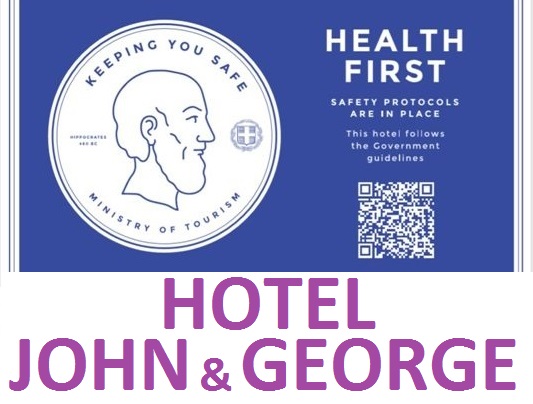 Hotel John & George – Post Covid-19 Requirements
Owing to a highly developed sense of responsibility, duty and professionalism, the John & George Hotel remained closed throughout the lockdown.
We have now fully completed the procedures required by law, gained significant experience and a deeper understanding of all the requirements. In order to make our guests safe, we are moving forward with optimism to achieve new goals that with a lot of work and God's help, we will achieve.
HEALTH PROTOCOLS APPLIED IN THE HOTEL JOHN & GEORGE
Action Plan
The hotel has developed an action plan as well as individual protocols for each section of the facility to take action, prevent and manage possible Covid-19 cases, in order to limit the spread of the virus to staff and visitors.
The action plan complies with the recommendations of E.O.D.Y. (National Public Health Organization)
According to the Plan, the hotel has appointed a health coordinator to oversee its implementation and a physician acting on the instructions of EODY to control COVID-19 in a suspected case.
Hotel Staff
All staff members:
have been informed about how the Covid-19 virus is transmitted and are able to provide information to visitors.

are trained in cleaning and disinfecting practices, following hygiene rules to avoid transmitting the virus (frequent hand washing, avoiding handshakes, physical distance, avoiding hand-eye contact, nose and mouth and respiratory hygiene).

Equipped with personal protective equipment (masks, gloves).

Daily check of body temperature every morning.
Reception/Front Office
Check in at the hotel after 15:00 – The Check In form is completed electronically through the website www.j-g.gr

Check out: 11:00

Antiseptic for guests, is provided at the hotel entrance

Floor marking of distances are indicated in the waiting area, the furniture has been re-arranged in order to reduce the waiting time.

Protective glass has been installed at the reception.

There will be frequent disinfection of the reception offices.

Employees will keep the right distance (at least 1.5 meters from customers).

When requested, employees have the opportunity to inform visitors about hotel rules and new measures taken.

The hotel provides information leaflets on basic health guidelines and useful information for guests, through shared screens and in room TVs.

In case of an emergency, a medical kit is available (at the reception) which includes gloves and masks, antiseptics, cleaning wipes, apron, long-sleeved robe and laser thermometer.

Personnel are able to identify the symptoms and report them to the health care provider.

All key cards are disinfected with a special machine.
Housekeeping- cleaning- disinfection of rooms
The hotel has implemented enhanced disinfection practices in accordance with EODY guidelines.

In addition to our regular cleaning of communal areas, the main entrance, reception, door handles, counters, tables, handles, elevator buttons and other high-frequency "touch points" will be disinfected every day.

Hand sanitizers are available in all public areas.
The rooms are cleaned when leaving, with special attention to the touch points.
Daily cleaning and changing of sheets, pillows and towels is done only at the request of visitors.

In all rooms, items such as extra pillows, bedding, menus, magazines, etc. have been removed.

TV and air conditioning controls have disposable covers.

After departure, the rooms, will be disinfected with the process of cloud cover from a special machine for your maximum safety.

Customer information with special marking on when and how the room was cleaned will be on display

All air conditioners are regularly maintained and chemically cleaned.
Public Spaces
The rules of social distance is applied in public areas (hotel lobby, living rooms, outdoor areas, etc.

Special markings that remind customers to keep their distance from each other.

Antiseptics in all public areas.
Food & Beverage
The hotel adheres to HACCP (Hazard Analysis Critical Control Points) procedures, an internationally recognized method for identifying and managing food safety-related risk.

According to government regulations, a customer is allowed every two square meters in the restaurant and cafe / bar. The maximum number of customers per table is six. There is no limit in the case of a family with minors.

Meals are served exclusively by the hotel's trained staff

All staff members will always wear gloves and masks or face shields.

Room service is available at no extra charge.
Air conditioning and space ventilation
All areas are adequately ventilated throughout the day.
Multipurpose hall
The multipurpose room operates in accordance with the applicable legal framework. Rules for social distance, position distribution and concentration size apply. A certain number of visitors to the hall is allowed.
Lifts
The recommendation is to avoid the use of elevators.

Disinfectants will be available at the entrances (or nearby) of the elevator. It is advised that guests use the disinfectants at the entrance and exit.

There will be frequent cleaning of elevators especially in "high frequency touch points" such as handles and buttons.
Pools
The frequency of cleaning and disinfection of our pool areas will be increased and disinfectant products suitable for the current situation will be used for the water.
Information
The hotel notifies the measures and requirements of the Action Plan to all interested parties (internal and external bodies / partners, employees, contractors, suppliers, visitors and the general public).
For more information you can contact us:
Via email at jg@j-g.gr and by phone (0030) 2752059097